I guess the delay in receiving my login to the Huffington post is meant to be. It has allowed me to read all of Dan Brown's views on No Child Left Behind. Clearly he is AGAINST NCLB and so called 'high stakes testing'.
As I think about it - since the Democratic Presidential candidates refuse to help promote "Fox News" - an outlet that is so hostile to their interests - I will follow suit and not add the value of my content to the Huffington Post, a similarly biased and agendized source which is equally counter to my interests of having an INDEPENDENT Black populace. We need educators who seek to "fix" our problem rather than "help the poor victims of societal misalignment", using them as the vehicle to accomplish their ends.
My blog site is as credit-worthy as your sir.
**************************
I find it interesting that he applauds Hillary Clinton for saying that the "promise of NCLB has been broken" as she points to LACK OF FUNDING. Most people don't realize that "NCLB" is not original legislation. NCLB is a reauthorization of the "Elementary and Secondary Education Act" - part of Title 1. Thus if we want to compare FUNDING then this gives us an opportunity to compare Bush's against the beloved Bill Clinton: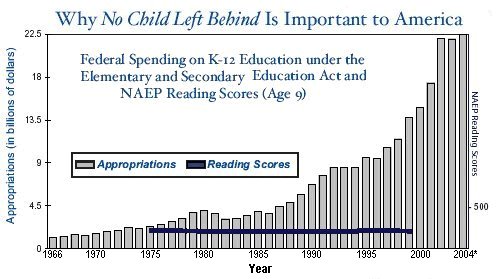 Educational Spending FACTS
If Bush has "Short Changed" the Public Schools.....what did President Bill Clinton do with regard to funding. Please note that ESEA also got reauthorized during Clinton's term. This was called "Improving America's School Act". "http://en.wikipedia.org/wiki/Improving_America%27s_Schools_Act"
Where as Clinton was invited to attend the NEA convention in the closing years of his presidency and enjoyed thunderous applause, the NEA sued George Bush because he failed to provide enough funding for public education. The chart above speaks for itself.
Dan, Dan, Dan - not the old "21 Century Learning Centers" have been shorted trick.
Today, that promise has been broken. President Bush's budget for 2007 provides $12 billion less than was promised by the No Child Left Behind Act, including $1.24 million less for New York. If enacted, that would mean 374,141 eligible children will be denied services. And at a time when parents are working harder and needing the assurance that their children are in safe places between the hours of 3 and 5, President Bush's budget calls for funding of the 21st Century Community Learning Centers program at over $1.5 billion below the promised amount. The President's budget leaves behind 2 million students who would receive after school services if the were funded at the level promised in the No Child Left Behind Act.
I have a full story on this that I can't find. The bottom line Dan (from memory) Bill Clinton first funded this program at the tune of $125 million. When he left office the funding was $485 million. Bush's 2006 budget request funded this program to the tune of $900 million and HE WAS STILL CRITICIZED because they wanted $1.1 billion in funding.
Can we have an honest dialogue Dan?
****************************************
I don't pretend to have the classroom experience of Dan Brown or Jonathan Kozol. I can only claim about 3/4'th of a year in the classroom as s substitute teacher when I first moved to town and was looking for a job. I will not attempt to "out wonk" them on educational policy.
It is clear to me that their collective soft underbelly is on getting them to defend the period before No Child Left Behind which must have been so wonderful and was stolen from them.
My target is Mr. Kozol because I have read at least 2 of his books and have witnessed several of his interviews. I believe him to be a "White Supremacist" by definition. His view, as expressed on "America's Black Forum" is that Black people should pursue a course of "School Integration" (going to schools with White folks) as the primary means of improving educational access for Black people. He said that majority Black schools will never provide quality education for Black children. In the days of "YouTube" I wish I had the tape of the episode.
The fact remains that both Mr. Kozol and Mr. Brown are pushing an agenda upon which they can't argue a "negative" when in fact the longer track record for urban education is indeed absent NCLB and the high stakes testing that they both dislike so. As I have clearly articulated in my blow by blow dissection of the interview - Mr. Kozol is fast and loose with his claims. He is an "Anti-NCLB Zealot" and will say anything to make his case.
Once again - If someone seeks to discredit a particular program or spending level then it is incumbent upon them to make the case that the situation PRIOR TO the adopt of the program was better for the intended target. Neither Mr. Brown and most certainly not Mr. Kozol are able to do this.
I am at least happy that Mr. Brown labeled me a "conservative blog" where as Ms. Rehm in her introduction did not label the Huffington Post as a "leftist web site". I quick perusal of the main page today shows the company that Mr. Brown keeps as an ideological hit man.
These kids are not pawns to be played with in an ideological gun battle.
You left after one year sir.