I am not trying to start something here - but - I am presently watching the movie "I Can Do Bad By Myself" which stars modern day actress Taraji P. Henson.
She reminds me of actress
Ruby Dee
when I look at her and watch her act. She is even cast in the same type of roles that Ruby Dee would have been cast in during her prime - independent thinking, strong woman.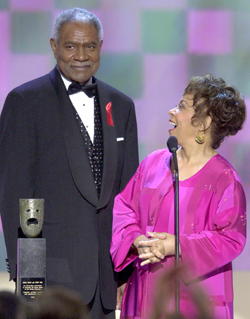 We have been used to saying "
Ossie Davi
s and Ruby Dee" because these two (when Davis was alive) were inseparable as a couple who worked together so frequently and who were married in real life. This is akin to "Marilyn McCoo and Billy Davis Jr", "Sonny and Cher" (though they later divorced) and "Will Smith and Jada Pinkett-Smith".
How much of this "solo run" by Ms Henson is a sign of the times in regard to the low rate of marriage for Black females as our cultural norms have changed? Is it the men that don't want to settle down or is it the new "independent woman" who is no longer pressed to "find herself" inside of a marriage?
How much of it is the fact that her time just has not come yet? She has had a few high-profile relationships - true and rumored.
NOTE - Terrence Howard DEFINITELY does not have a steady woman (at home watching him or in the audience) that watched as Taraji P. Henson planted a kiss on him.
I would not be able to explain that one away to my "woman" even if I was an actor.