About 6 months ago I reported about the attempts by my wife and her cousins/girlfriends to match make. The girls were in my kitchen plotting out a few favorable guys to link two of the single ladies up with. Once again when her friend from the UK notified us of her plans for a visit to the USA the match making effort was kicked in. This time I was asked to broker a date between a male family friend and the girlfriend from the UK.
Fast forward to a few weeks ago. The girlfriend came through but the "brother man" did not. Our friend is a thirty-something single (and straight) man with a house and a stable job. He has plenty of options at his disposal and had no interest other than a dinner date.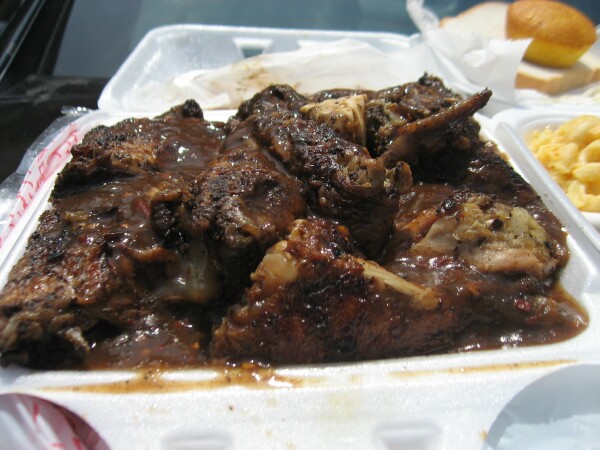 From my perspective my wife's friend is a good woman. My kids grew attached to her and kept mocking her on her British accent.
The primary appeal to me for her visit was that I had several weeks of good Jamaican cooking and some good conversations as well. I ask all of my wife's friends or relatives that come though for a visit to hook me up with some good home cooking. Most Jamaican women take me up on my offer because they want to leave a good impression about their skills in that area.
The UK girl friend won the prize of "My Favorite 'Wife's Girlfriend' " because she assisted me in cracking the code on the make up of my favorite jerk chicken from the "Island Cafe" restaurant. I brought home a take out order of their jerk chicken and asked her to recreate the jerk gravy that they use. This is my favorite because they use a "wet jerk" recipe where the chicken is bathed in gravy. I can spread the gravy over the rice that they provide and enjoy a spicy, flavorful dish. Other places do "jerk barbeque" or the traditional smoked jerk chicken without enough gravy to spread on the rice. This is good but not "as good".
She told me that the gravy was not "Jerk gravy" in the first place. Instead it was the gravy taken from "Brown Stewed Chicken" or "Ox Tails". She made a batch of chicken for me and showed me how "Browning" sauce was the secret ingredient. My task now is to play with the ingredients on my own until I find the exact match. (You all have no idea how many years I have been trying to uncover this recipe for my favorite chicken).
The larger point is that here was a woman with a good education, a stable job and a good cook. She is looking for a life partner to settle into a relationship with and produce a family.
I learned after she departed that the "brother man" she had been in a long term relationship with had cheated on her and thus she severed the relationship.
I won't judge another man on his choices to step out on his lady. I can only say that he lost a good person as a consequence of his actions.