Rihanna Offends Young Fans With Language Used In Her Tweet To Her 3M Followers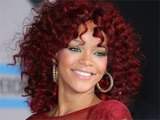 © WENN
Rihanna's language on Twitter has allegedly shocked some of her younger fans.

The singer, who has a following of over 3 million on the social networking site, swore when tweeting a response to her rapper friend Katt Williams.

Williams posted: "Watchin clifford the big red dog =) somehow im reminded of @Rihanna idk (I don't know) why tho (sic)."

The 22-year-old then wrote in reply: "LMAO (Laughing my arse off), Katt u lil c**t."

A fan later told The Sun: "Rihanna is a role model to millions of young, impressionable kids.

"She shouldn't be using that kind of language - especially when she knows how many people follow her."
I am not a fan of Twitter.
I don't get why someone would want to latch onto someone else's every word.
With that said - it is not surprising that if you do agree to latch on a Twitter feed of an otherwise private individual you will be exposed to and sometimes offended by their antics.